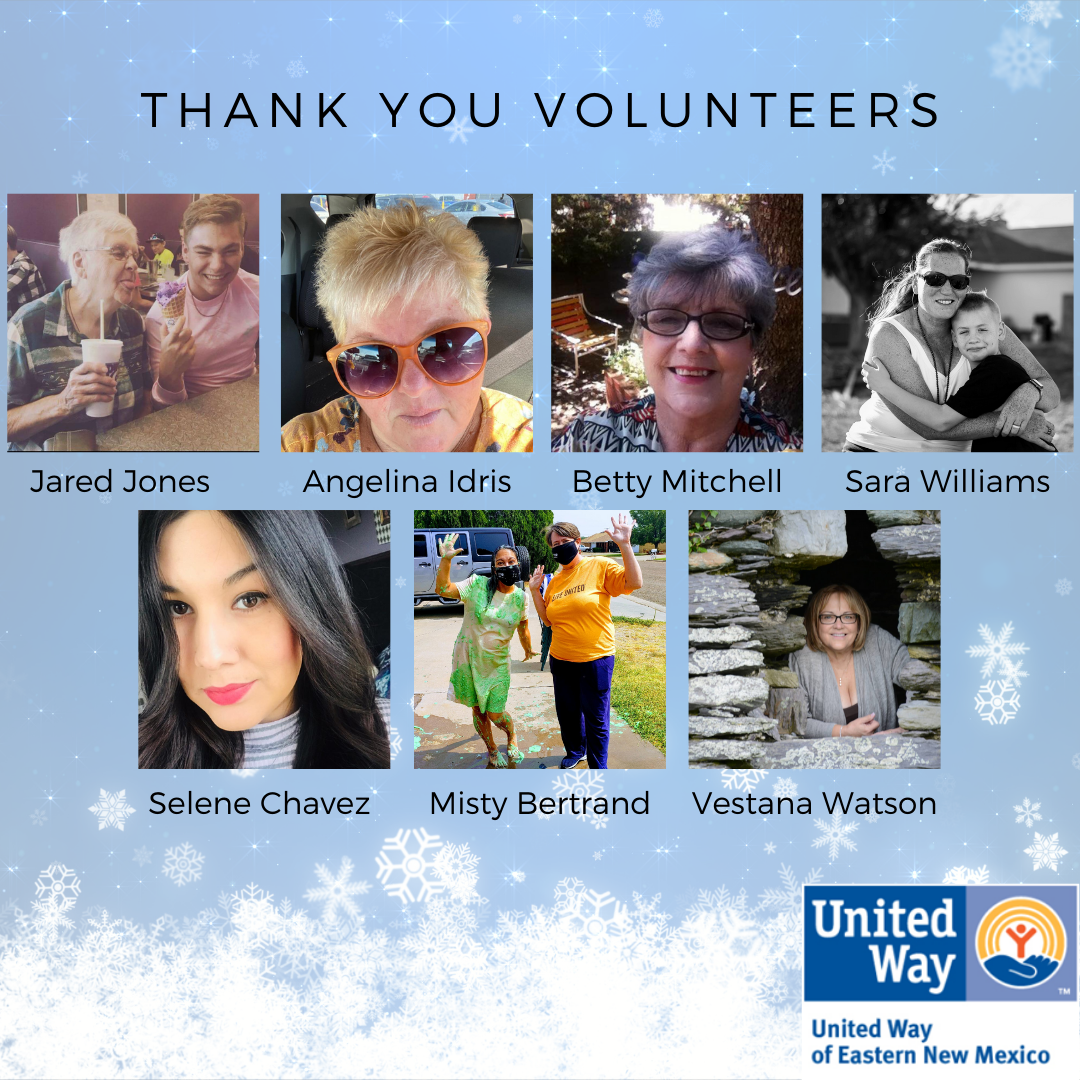 The blessings of friendship have been keenly felt in 2020. UWENM could only have made it through these past eight months with the help of our friends-board members, volunteers, and even interns!
From the beginning of the pandemic we were blessed by the help from all quarters! 
Our Board of Directors was so supportive and ready to respond: running errands, thanking donors, approving fast moving changing, and signing lots of checks on behalf of families. Special thanks to Misty Bertrand, Mindy Watson and Sara Wiest for being available on the fly. And to Monty Porter, Sara Williams, and Sara Hodson for being ready for anything.
We also had great help from our Phone Buddies. These amazing volunteers helped with 211 calls. They provided excellent customer service, kept up-to-date on changes in Covid19 services and even brought the 211 phones into their homes! Thank you Betty Mitchell, Selene Chavez, Angelina Idris, and our Social Work intern Jared Jones.
Keeping up with office work remotely was a breeze thanks to Vestana Watson, Danna Smock, Sonya Bridgewater and other helpers. THank you.
Because the FUN must go on, we had AMAZING folks join in on Red Nose Day, our Diaper Drive, Womens Initiative Network events, and we can't forget the hours of prep 
work for our Moove-It Truck Pull. 
Thank you--
Red Nose Day Warriors: Marcy Anaya, Brian Pickard, Shaun Banther, Sara Hunton, Mindy Watson, and Sara Williams
Diaper Dads: Carlos Chavez, John Ellis, Mannu Varela, Jamaal Williams, Marcus SMith, Steve North, Justin Hines, and Justin Santamaria
WIN Event team: Ronnie Birdsong, Jane Christiansen, Alisa Boswell-Gore, Patty Schroeder, Misty Bertrand, Sarah Stevens, Marge Rhode, Patti Dobson, Gail Tarson, Mary Ayala, Sonya Bridgewater, Cecilia Baize, Brandi Vernardo, and our great WIN Chairwoman-Mindy Watson
Truck Pull: the irreplacable Linda Hester.
Finally, for their support all year long our Board of Directors THANK YOU! 
Pres. Misty Bertrand, Vice-Pres. Kaye Green, Sec. Sara Wiest, Treas. Mindy Watson
Eduardo Lopez, Monty Porter, Paul Nelson, Nicole Madrid, Veronica Cordova, Sarah Hodson, Selene Chavez, Tyler Lucas, Sara Williams, Vincent Soule, and Jeff Gentry