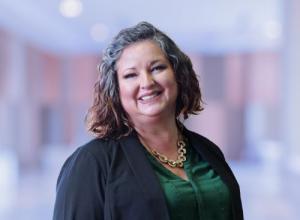 Donor Relations Associate
Kristen Holmes is the Donor Relations Associate at the United Way of New Mexico with 15 years of experience serving Air Force families. Kristen attended Northern Arizona University and is a lifelong learner who is currently pursuing her Salesforce Administrator certification.  
As a proud Air Force spouse, Kristen has been involved with many organizations that support military families. She developed the Key Spouse program for the 59th Medical Wing as Lead Key Spouse serving 5,000 active-duty families while her husband was stationed in San Antonio. Serving as Co-Chair of the Ways & Means Committee for the Officer & Civilian Spouses club in Germany, Kristen was able to drive a 125% increase in fundraising. She continues to reach out to families through the Key Spouse program at Cannon Air Force Base. 
Since her marriage in 1999 to Douglas Holmes, Kristen has lived in five states, two countries, and eight homes. Kristen and Douglas have added four children to their family and are about to add a dog. When not reaching out to others, she loves to go on adventures with her family and pursue creative outlets